Speeds & Feeds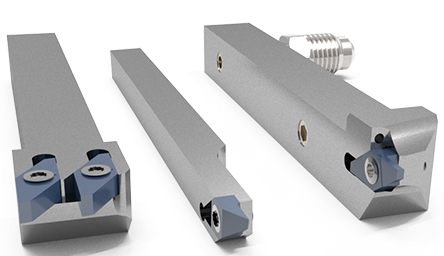 ---
multidec CUT 1600 Series Inserts and Holders - Tooling System For Micro Turning
WHAT IS THE CUT 1600 SYSTEM?
The multidec micro turning and cut-off system for the Utilis CUT 1600 Series is suitable for Swiss type lathes up to a maximum of Ø10mm in bar diameter. This series includes a large selection of cutting geometries with different chip breakers, specifically designed for small parts manufacturing.
Each cutting insert has two cutting edges with shank cross-sections from 7 to 25mm in length. Full profile threading inserts begin at M0.2 (0.06mm pitch) and grooving inserts' width start from 0.05mm.
Theses inserts have high repeatability during the machining of common materials. Inserts are available in carbide grades of coated and uncoated ultra-fine grain substrates that can utilized with various materials.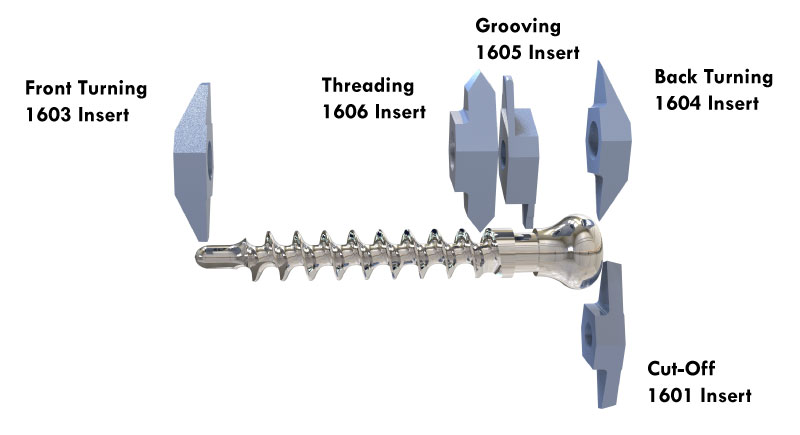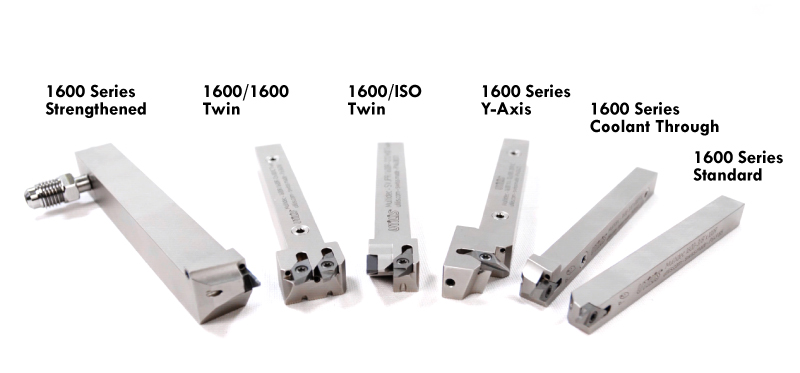 ---
ADVANTAGES OF CUT 1600 SERIES INSERTS & HOLDERS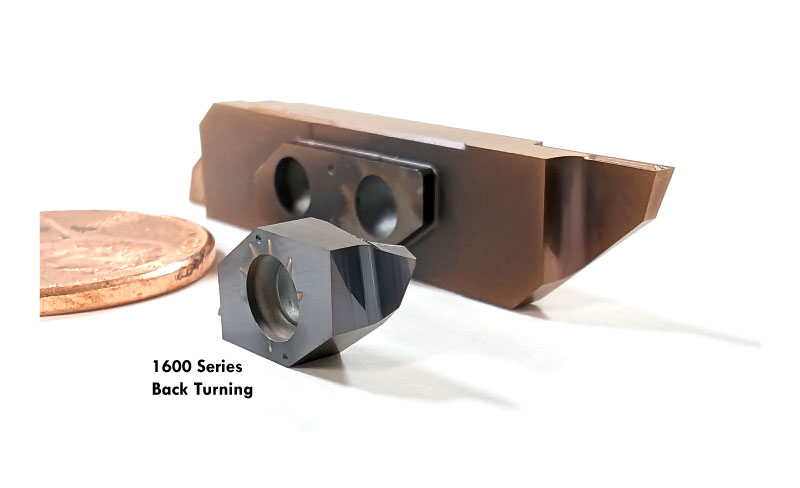 The multidec 1600 Series inserts and holders offer several benefits:
• Cutting Edge Repeatability - Within .0004in
• Superior Chip Control - Many available chip breaker geometries for breaking up and controlling chip flow
• Micro Machining - The 1600 series inserts excel at machining barstocks under .125in.
• 1 Holder For Multiple Operations - All 1600 series inserts will fit the same holder, no matter which turning operation you are performing.
• Enhanced Tool Life – Many different coatings and grades are available and desinged to extend the life of your tool when cutting different materials
• Cutter Clearance - multidec 1600 series inserts and holders are available with built-in offsets to get your tool to the target while maintaining clearance of the guide bushing.
• Coolant Through Capability - Need coolant through? Many multidec holders come with multiple coolant ports to help you get the cutting zone clear of chips.
---
WHAT ARE THE BEST CASE USES FOR CUT 1600 SERIES INSERTS & HOLDERS?
CUT 1600 series inserts are best used for turning barstocks under 10mm. CUT1600 inserts excels at micro machining in the .020-.040mm major diameter range or smaller. The sharp edge conditions and zero nose radius that come standard on these tools are ideal for micro machining applications.
---
PRECISION CHIP BREAKERS
Type-SPT Chip Breaker
Cut-Off Inserts

The multidec® CUT3002 cut off inserts with type-SPT chip breaker feature a positive rake intended for use in soft and stringy materials. The SPT chip breaker comes in three different angles described by the product number suffix below.

Type-SC Chip Breaker
Cut-Off Inserts

Cut-off inserts armed with the type-SC chip breaker are ideal for hard materials. This chip breaker is quite universal, used in roughing, finishing, and micro finishing.

Type-SP Chip Breaker
Front & Back Turning Inserts

Front and back turning inserts with the type-SP chip breaker are ideal for finishing and micro finishing on may material types, breaking up chips and preventing stringy chips from forming.

Type-CP Chip Breaker
Front & Back Turning, Grooving Inserts

When creating deep features during front turning, back turning, or grooving, the type-CP chip breaker is vital for chip removal. The sharp articulated geometry will peel chips away and keep features clear of material during finishing and micro finishing operations.

Type-GT20 Chip Breaker
Cut-Off Inserts

Compared to the GS12 chip breaker geometry, the GT20 chip breaker has a sharp and slightly rounded cutting edge. It provides excellent chip flow, creating short chips and resulting in a smooth finish. These results can be experienced at higher feed rates also.

Type-GA20 Chip Breaker
Front Turning Inserts

Based of the multidec TOP insert technology, this optimized version enables turning in three directions. Perfect chip control is maintained during facing, turning, grooving, and back turning. Inherited from the TOP insert technology, the GA20 enables up to 100% higher feed rate.

Type-GC20 Chip Breaker
Grooving & Turning Insert

Providing good results in almost any material while facing, grooving, or turning, the GC20 chip breaker can turn in three direction with at extremely low and high cutting depths and across low and high feed rates. Excellent chip control results can also be observed in lead-free brass.
---
KEY GENSWISS CUT1600 HOLDERS: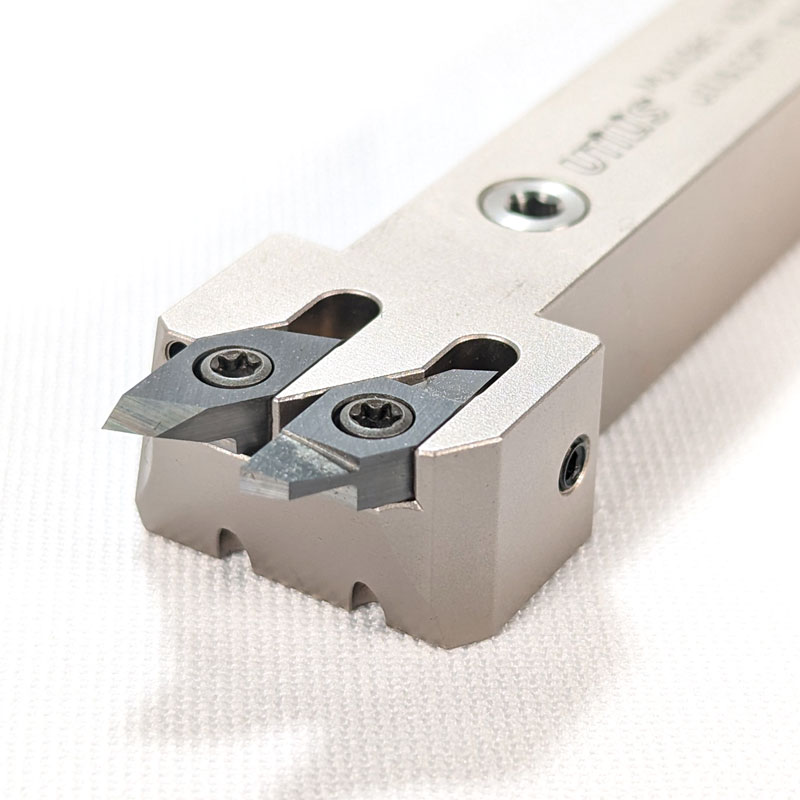 Standard holder: the basic multidec® square shank tool holder for the CUT 1600 Series without internal coolant capability.
IC: an acronym attached to Utilis multidec® holders with integrated (internal) cooling.
IC coolant-thru holder: The multidec® IC standard holder offers a large selection of holders with integrated coolant supply. Due to the high precision of the impact and the large pressure, the chip can be quickly and safely guided away from the cutting edge and the workpiece. This means a markedly longer tool life, coupled with high process reliability in series production.
Twin holder: The multidec® twin holder mounts two inserts at the same time. Various combinations are available and offer the user a lot of flexibility. Twin holders are available with shank cross-sections from 8 to 20 mm and are all available with and without internal cooling.
Y-axis holder: The multidec® Y-axis holder helps with chip control problems that can occur when turning long-chipping materials. The cutting edge is offset by 90° compared to the standard holder, which causes the chip to fall onto the bed of the machine. With the Y-axis holder, you will never get another "bird's nest" of chips that can remain on the cutting edge.
Strengthened holder: The multidec® strengthened holders enable the use of the CUT 1600 series inserts on larger Swiss-style machines such as 32mm machines.
45 degree holder: A holder type where the insert cutting edge engages the work piece at a 45 degree angle compared to a standard holder. Used for face grooving and an making undercut features.
90 degree holder: A holder type where the insert cutting edge engages the work piece at a 90 degree angle compared to a standard holder. Used for face grooving and internal features.
Multidec Short holder: shorter holders that enable the use of multidec® inserts on commonly available quick change tooling systems. All multidec Short holders feature internal cooling.
1600 STANDARD HOLDERS: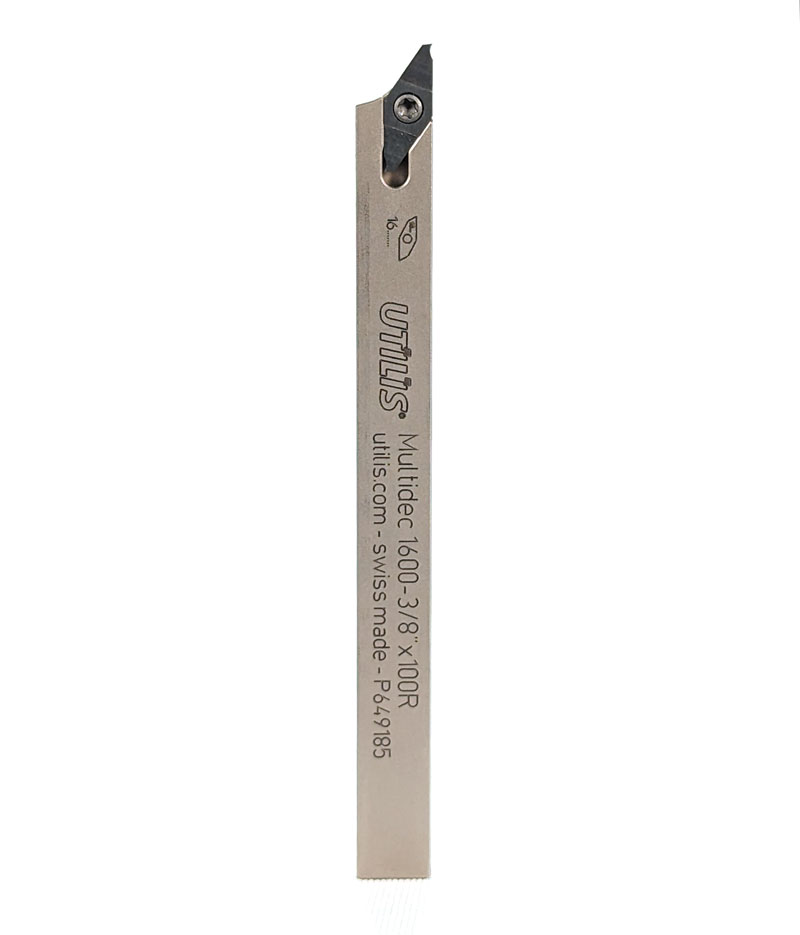 Accurate coolant delivery to the cutting edge is essential when machining modern materials for precision, but not all holders feature internal-cooling capability, which is the preferred method for delivering cutting lubrication. Standard holders offer high rigidity and repeatability, but they rely on external coolant hoses to deliver lubrication. Applying coolant as close to the cut as possible is important, and it can be difficult to limit space between the material and cutting insert without internal coolant capability. Don't worry, GenSwiss offers a line of coolant-thru tooling wedges with an assortment of various quickchange connectors, fittings, manifolds, and high pressure coolant hoses.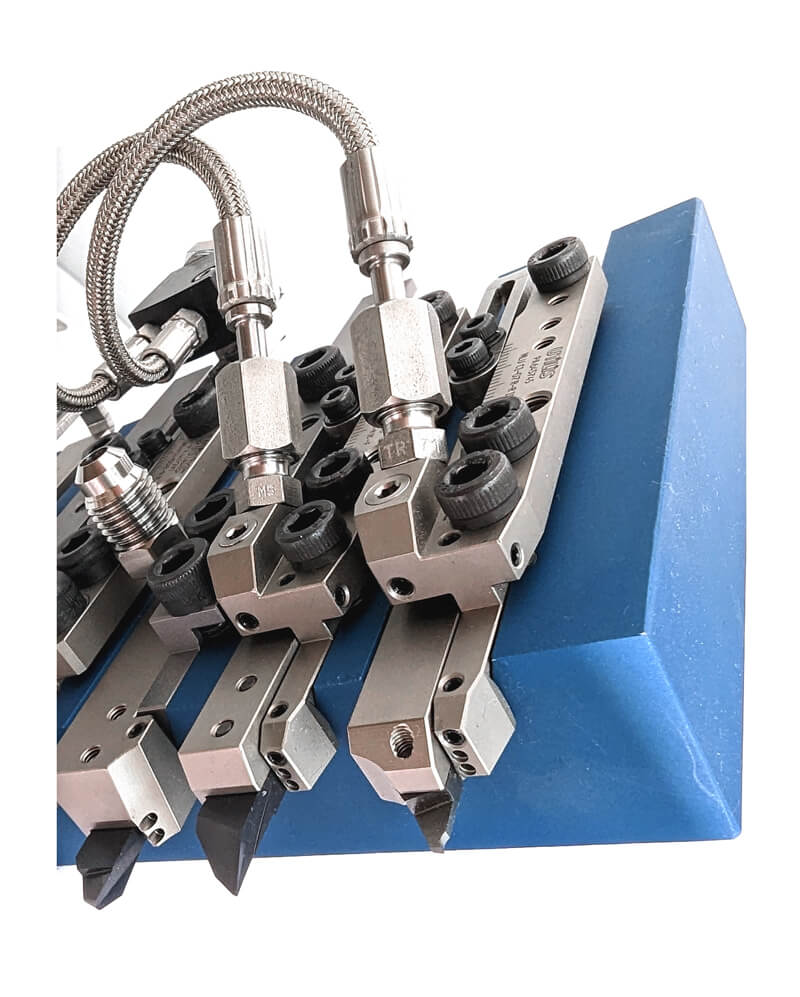 Multidec standard holders are your basic square shank tool holder, a true Swiss-style holder where the cutting edge is flush with the mounting surface of the shank with no offset. These holders get your cutting insert right up on the guide bushing for maximum rigidity. Univeral amongst all multidec holders, the insert pocket provides both clearance and protection for all CUT 1600 series geometries and chip breakers.
The recessed pockets of the multidec holder system is a great feature that prevents the loss of the mulditdec holder when something catastrauphic happens. When you lose a cutting edge on the CUT 1600 insert or if part of the insert breaks off, you are able to index the insert around and utlize the other edge. This type of pocket is the same across the whole CUT 1600 system and is compatible with all CUT 1600 series inserts, which includes geometries for cutoff, front-turning, back-turning, grooving, threading, and even full-radius grooving. Full-radius grooving is available "off the shelf" and is a special execution that is not readily offered by other tooling providers.
1600 COOLANT-THRU HOLDERS: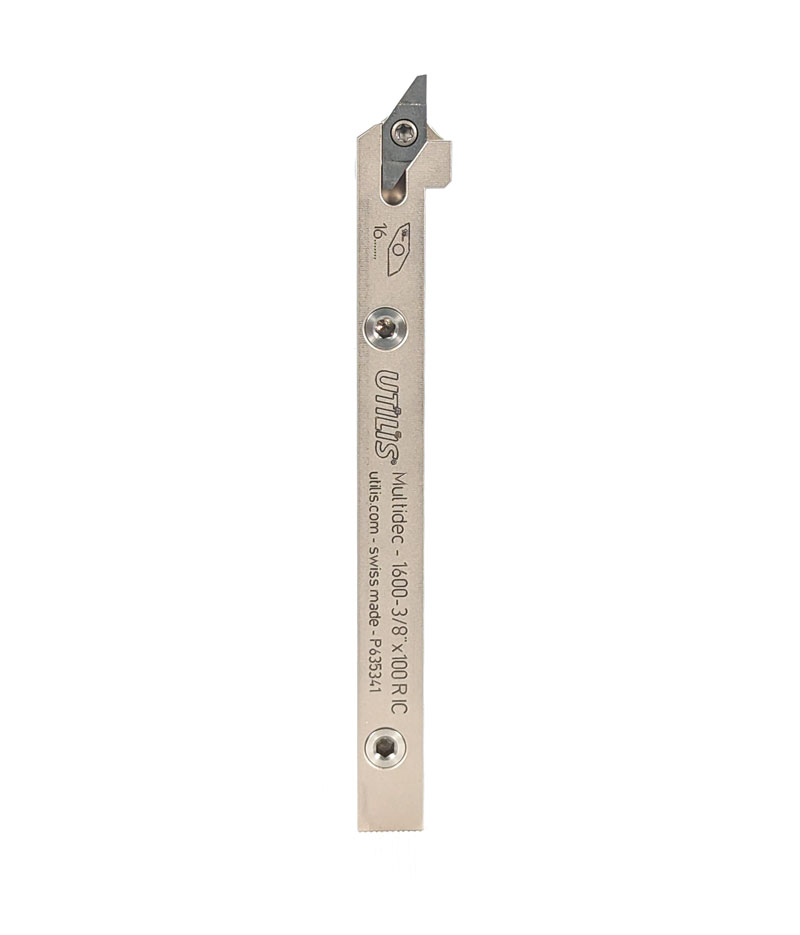 We can not stress the importance enough of high-pressure coolant running through Swiss-type tooling to keep "control over chips." The coolant output at the front of the holder is diesigned specifically so the coolant jets exactly at the tip of the cutting insert. Multidec coolant-thru holders have 5 coolant ports on both sides of the holder shank plus a rear coolant port, providing flexibility no matter where your coolant line is situated. Side coolant ports accept fittings with M5 threads and the rear coolant port can feature mating for M5 or G1/8 fittings depending on the size of the holder's shank. Many coolant accessories such as hoses, quick change connectors, fittings, and manifolds are available to help plumb any cooling situation.
The y-axis, twin, and strengthened type holders also feature coolant-thru capability.

1600 TWIN HOLDERS
The twin holder is meant for work within the 8-20mm range and is available with or without internal cooling capability. This holder doubles the number of tools while allowing operators to both perform two duel or separate operations. Twin holders are phenomenal for operations requiring multiple inserts or where you don't have too many turning positions and that extra position is needed. Multidec CUT 1600 series twin holders allow you to put two 1600 series inserts on the same holder. Some holders enable the ability to hold a 1600 series insert and a multidec ISO series insert. For instance, a twin holder can hold both a CUT series 1605 grooving insert and a CUT series 1606 threading insert or a CUT series 1603 front-turning insert and an ISO TOP type insert. ISO TOP cutting inserts such as a VPGT come featured with TOP wiping geometry that enables a very smooth finish and at higher speeds & feeds.
When adding two inserts of the same cutting operation, twin holders will save you some time by reducing machine downtime due to tool changes on a long production. Rather than worrying about a failing insert, the job can be programmed to switch to the second insert, enabling you to run an additional full run on that second insert. No more worrying about lights-out manufacturing. The only thing to keep in mind is that the close pocket position on the hodler limits the type of operations that can be achieved.

1600 Y-AXIS HOLDERS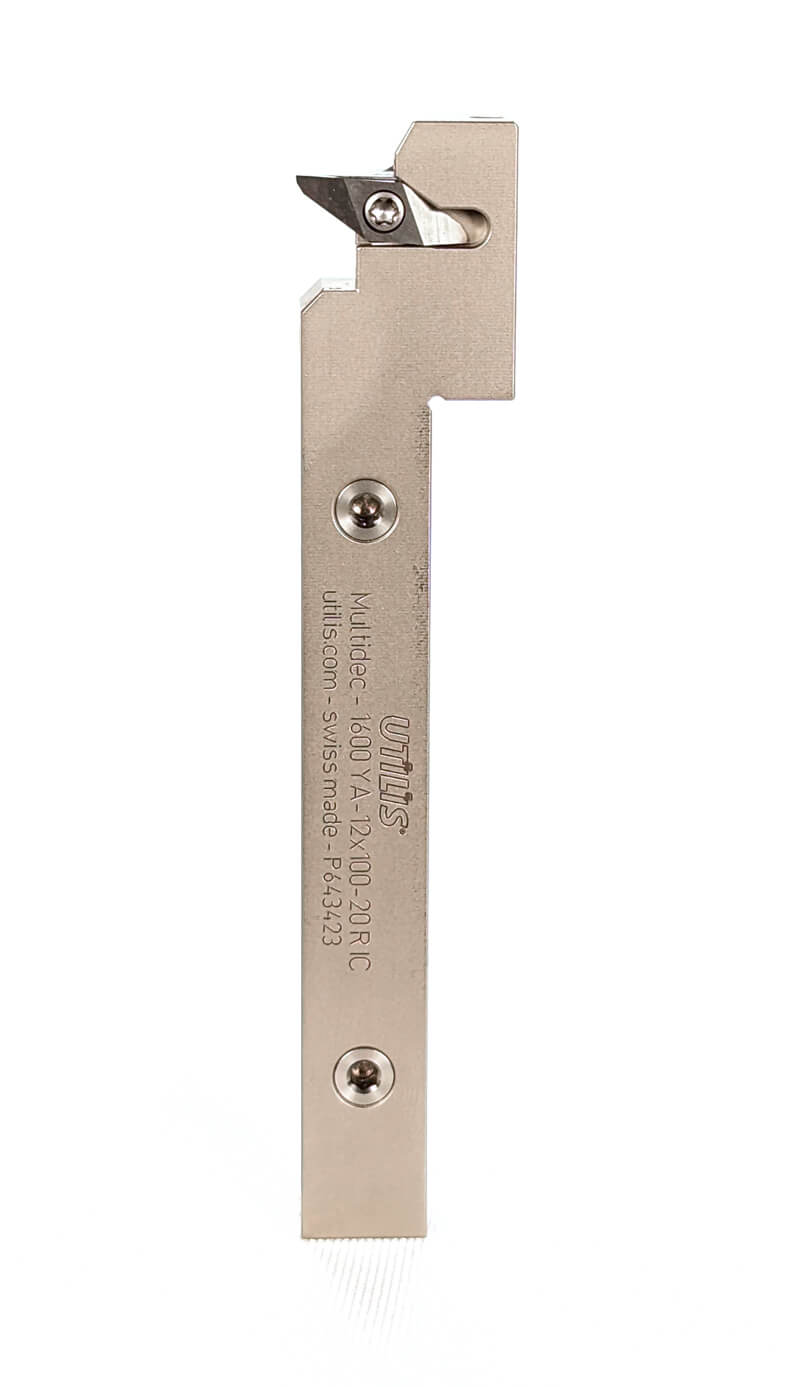 Multidec Y-axis holders are perfect for long-chipping materials, allowing for better chip control. The 90° inverted design allows chips to fall onto the bed of the machine. If you are removing a significant amount of material for an operation, such as back-turning or front-turning, and you are having trouble controlling chip wrap, this is an option for you.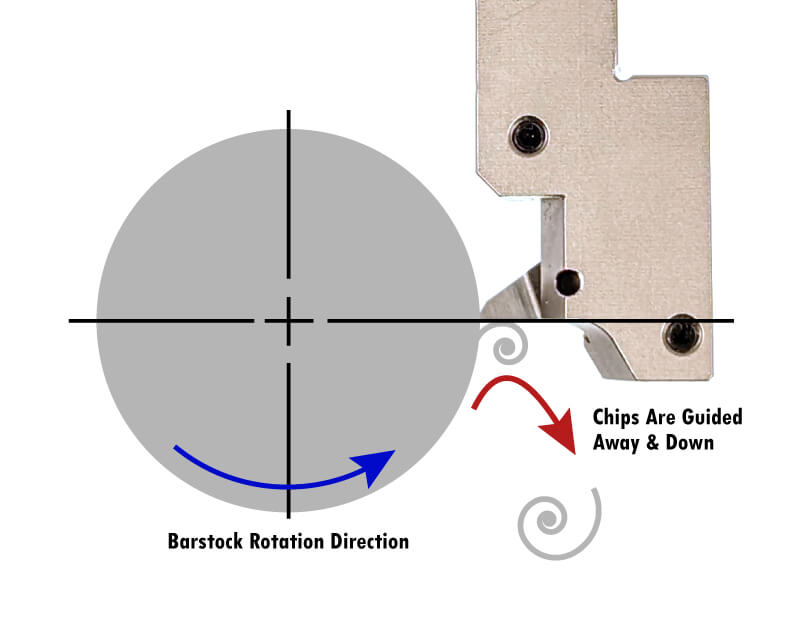 The Y-axis holders are also coolant-thru capable, featuring coolant jets aimed precisely at the cutting edge, with our without high pressure. The holder can be used for just about any kind of turning operation.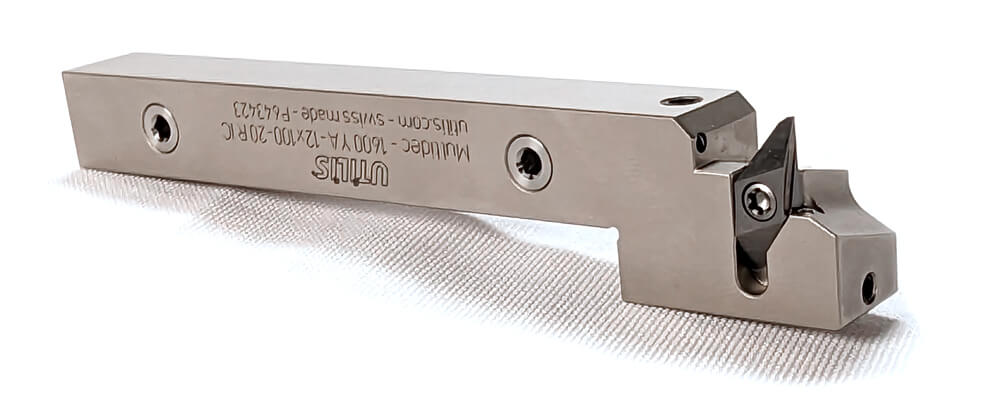 1600 STRENGTHENED HOLDERS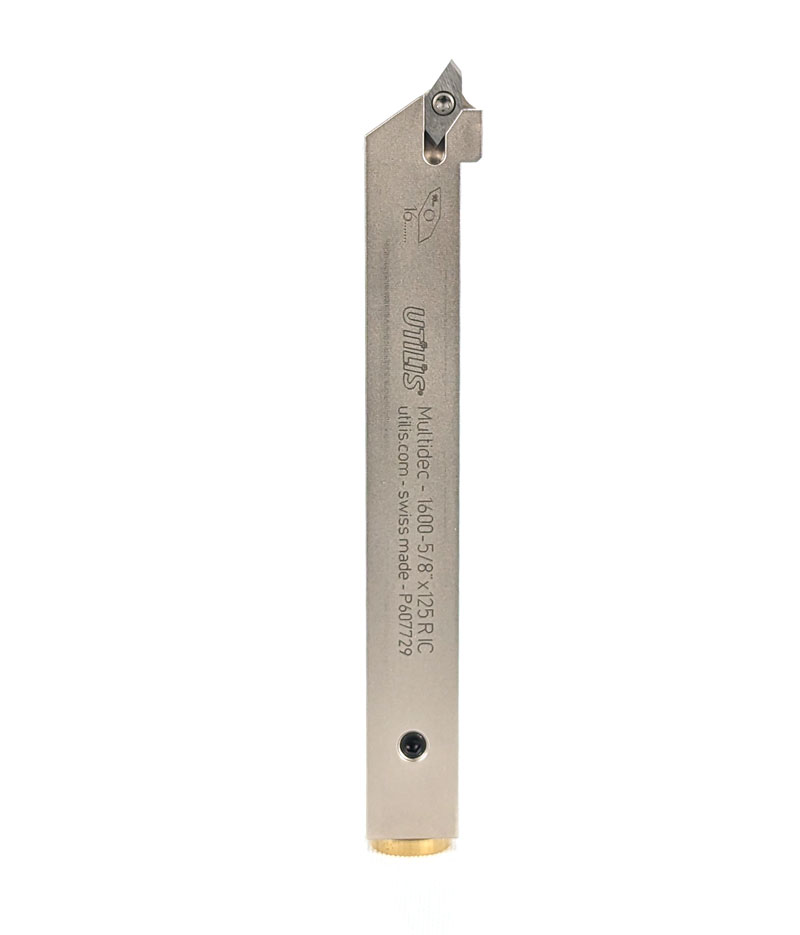 Multidec CUT 1600 series strengthened holders feature larger shanks, allowing fitment into 32mm machines where machining very fine features on some bigger Swiss-style workpieces is required. This holder allows larger machines to take advantage of the CUT 1600 series line of micro machining inserts. All strengthened holders offer coolant-thru capability accepting M5 threaded coolant fittings on the sides and G1/8 fittings on the rear.

1600 45 DEGREE HOLDERS
Multidec CUT 1600 45 degree holders provide a way to rigidily hold a CUT 1600 series insert while performing axial or radial undercuts with a CUT 1604 back-turning insert or face grooving features with a CUT 1611-45 insert.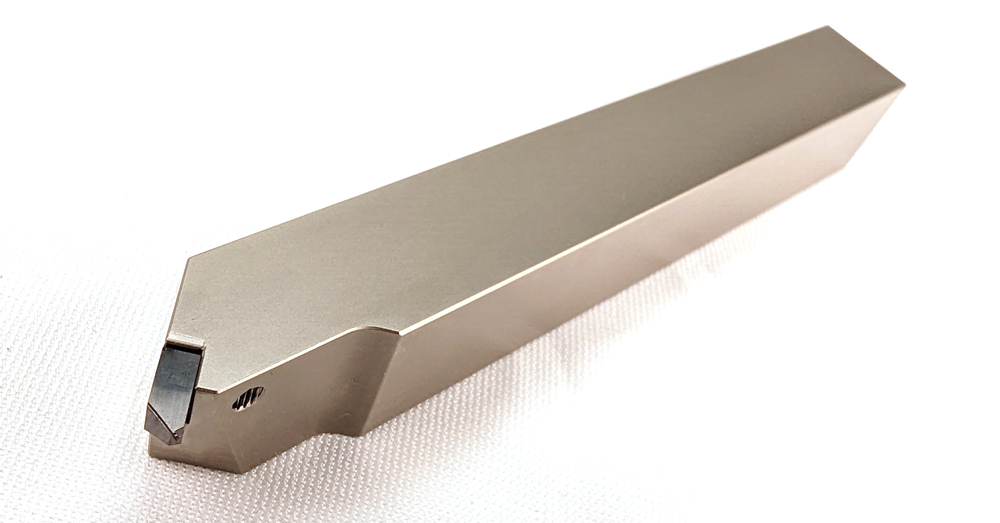 The 1600 45 degree holder below is shown with a CUT 1611-45 grooving insert. The cuting edge on the insert itself is designed with a 45 degree angle so that when combined with this holder, face grooving operations can be performed. Each of these inserts are designed to cut at a minimum diameter where the groove must be created. When this combination of insert and holder are used, pair them with the same executions. A right handed holder will use a right handed insert.
Even though multidec 1600 90 degree holders enable face grooving operations, the CUT 1600 45 degree holders and 1611-45 inserts are designed with a greater relief, allowing for much smaller minimum radius sizes down to 0.8mm.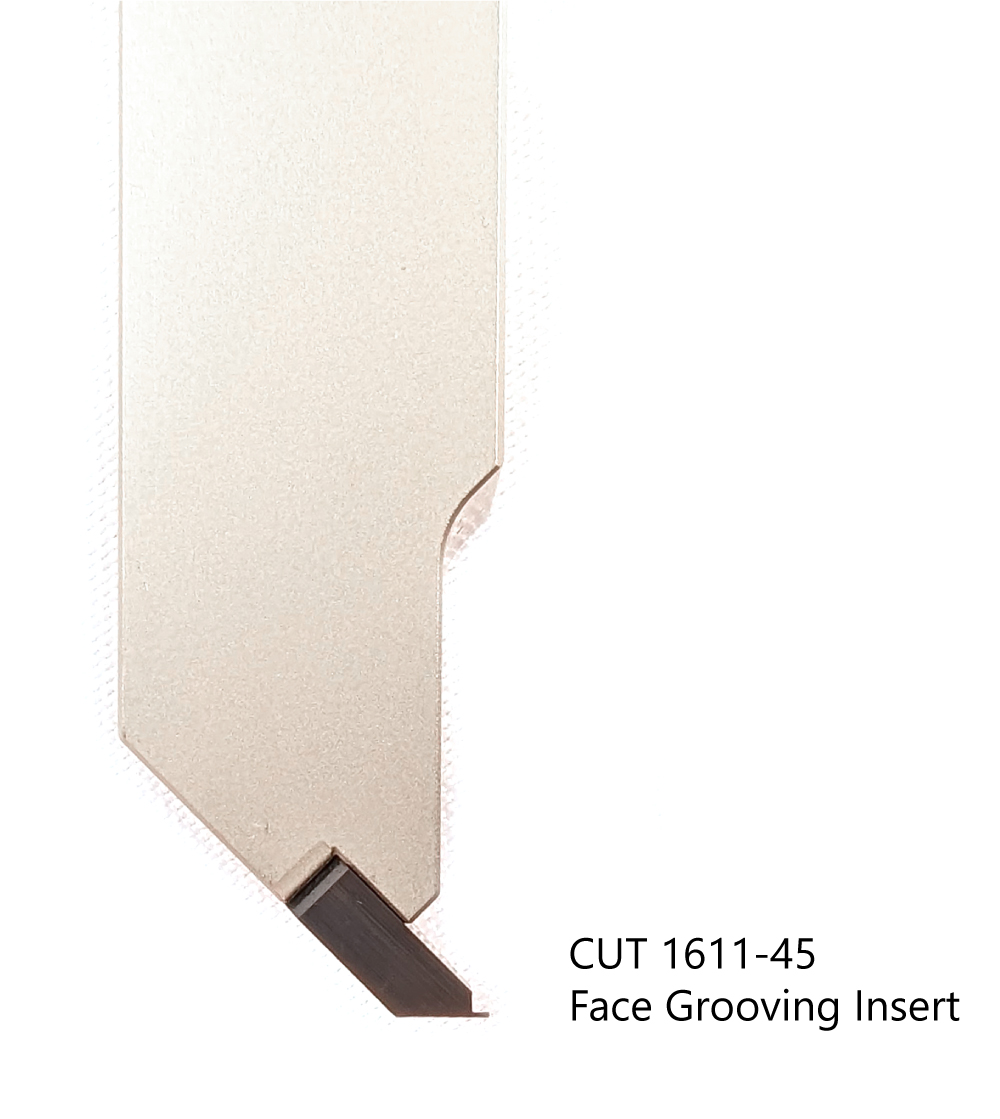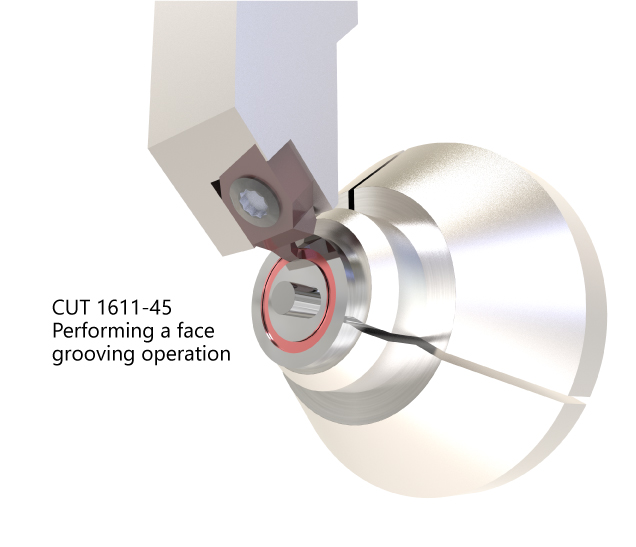 When paired with a CUT 1604 back-turning insert, the 1600 45 degree holder can perform undercut features. With this combination of insert and holder, a right-handed holder must be used with a left-handed insert and visa versa. Changing the direction of cut, an LV insert vs an L insert, will change the type of cut that can be made.

1600 90 DEGREE HOLDERS (AXIAL AND INTERAL FEATURES)
Multidec CUT 1600 90 ST offset holders provide axial grooving capabilities and work in tangent with multidec CUT 1611 axial grooving inserts. The offset holder geometry enable face grooving operations with minimum radius sizes ranging from 7 to 18mm. These holders require an opposite handed insert. (i.e.: a right-handed holder uses a left-handed insert)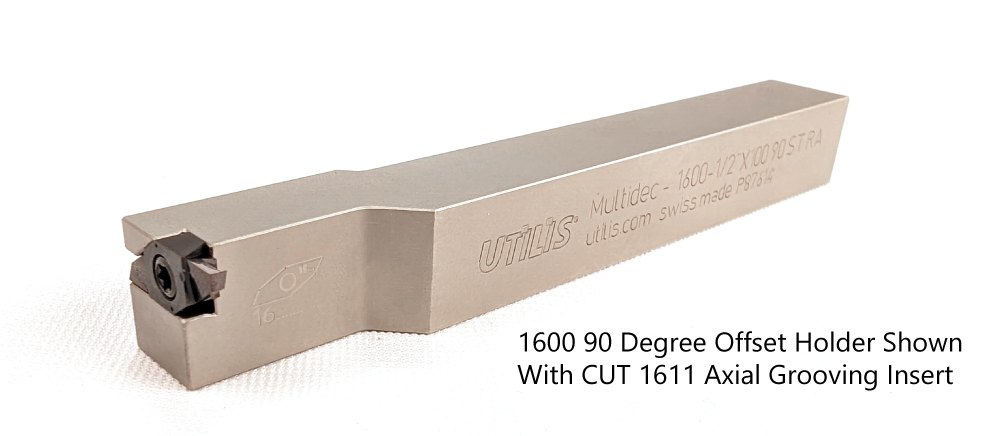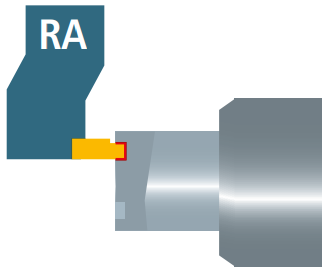 Internal features can be machined using the standard CUT 1600 90 ST holder in tangent with 1600 series inserts. A minimum hole diameter of 21mm is required to fit this holder. These holders require an opposite handed insert. (i.e.: a right-handed hodler uses a left-handed insert)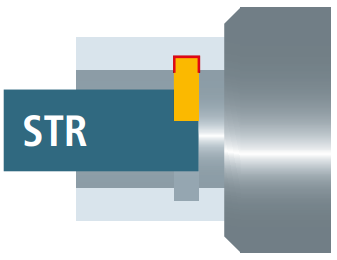 ---
ADDITIONAL PRODUCT INFORMATION AND INFORMATION RESOURCES
---